Atlanta, GA – April 8, 2010 – (RealEstateRama) — Prudential Georgia Realty, a metro Atlanta real estate firm with more than 20 locations in several counties, including a thriving office in Midtown, has recently signed a lease to open a new Buckhead office. The 5,000+ square foot space is located at 3221 Peachtree Road, a block south of the Piedmont Road and Peachtree Road intersection, in the heart of Buckhead.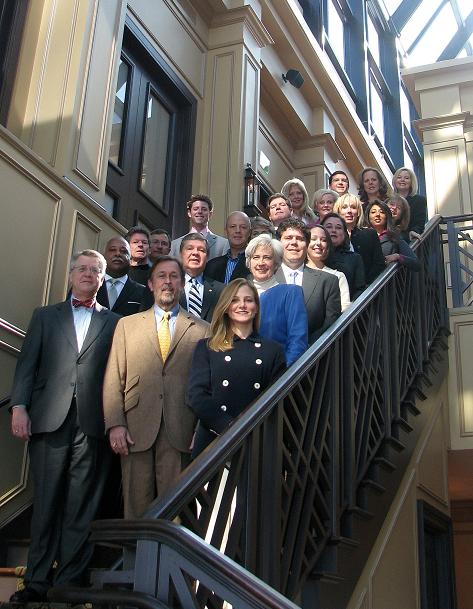 Founding members of Prudential Georgia Realty's Buckhead office pose for a photo after a breakfast meeting at the Atlanta Financial Center.
Nearly 30 experienced real estate professionals have already committed to joining Prudential to staff the new location. Renovations have already started on the space, with final move in expected before the end of April 2010.
Managing Broker Bill Murray, who joined Prudential from Harry Norman, Realtors to lead the new Buckhead office, is actively interviewing experienced agents to complete the sales team. "Because it's such an agent-centric company, Prudential's technology and training are phenomenal. When I interview agents and let them know about all the resources, training and expertise available to them, they really grasp what the value proposition is that Prudential offers its agents."
A grand opening celebration and ribbon-cutting ceremony will be held in May to officially open the new facility.
To learn more about Prudential Georgia Realty, conduct a search of the more than 70,000 properties available in metro Atlanta or to find contact information and web site links for any of the Buckhead agents, visit www.Buckhead.PrudentialGeorgia.com. To contact Bill Murray or an agent at the Buckhead office, call 404-537-5200.
Prudential Georgia Realty is ranked by Real Estate Magazine as one of the top 100 real estate companies in the United States. It is an independently owned and operated member of Prudential Real Estate Affiliates and is the 12th largest Prudential real estate affiliate in North America. Prudential Georgia Realty recently became the first large brokerage company in the nation to win the Realtor.com Online Marketing Award of Excellence.
Now in its 47th year serving metro Atlanta, the company has 23 locations in metro Atlanta and 1,200 Realtors ready to assist families with their real estate needs. To learn more about the state of the metro Atlanta real estate market, visit www.AtlantaRealEstateChannel.com for the latest videos and information, including details on the Job Loss Protection Plan for home buyers. Follow the Prudential Georgia Realty blog at http://atlrealestatescoop.com/ for the real scoop on the Atlanta real estate market or follow this Atlanta real estate leader at www.twitter.com/ATLscoop.
Contact:
TC McClenning, Public Relations Manager: 678-352-3317 (direct)
Prudential Georgia Realty