Marietta, GA – April 7, 2010 – (RealEstateRama) — Real estate professional Sandi Bonner, who has been an agent 31 years, received three, separate real estate industry honors in recent weeks. A long-time Realtor with Prudential Georgia Realty, she is based out of its Northwest office on Dallas Hwy. in West Cobb.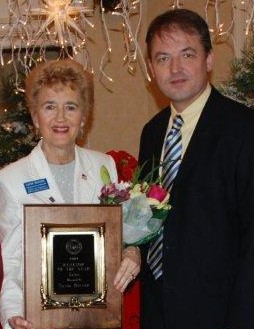 Professionally, Sandi Bonner is an active member of the Cobb Association of Realtors, the Women's Council of Realtors (WCR), the Georgia Association of Realtors and the National Association of Realtors and each of these organizations honored Sandi for her service to the real estate industry. Her first award was being named the WCR Cobb Chapter Member of the Year. Sandi has long been involved with WCR, serving on committees, being a past chapter and state president for WCR and regularly attending its conferences throughout the country.
Sandi Bonner's second honor was being named Realtor of the Year for the Cobb Association of Realtors at their awards luncheon. And finally, at a Georgia Association of Realtors event, the statewide WCR Member of the Year was selected, based on those who won Member of the Year within the numerous county chapters in Georgia. Sandi again took home this honor. It's not believed anyone else has ever won all three of these industry honors in a single year before.
"I'm thrilled to have won these awards from my peers, however, I volunteer to assist with all these industry activities and committees because I love it, not with the hopes of any future recognition. I'm a huge believer in the value and necessity of volunteering with the Women's Council of Realtors and my local and state Realtor boards," said Sandi Bonner.
Sandi specializes in residential real estate, first-time buyers and new construction in Cobb and Cherokee counties. To learn more about the metro Atlanta real estate market or conduct easy online searches of some 70,000 metro Atlanta properties for sale, including new construction and foreclosure properties, visit her site at www.SandiBonner.PrudentialGeorgia.com. Or contact Sandi at the Prudential Georgia Realty office, 770-421-8600.
Prudential Georgia Realty is ranked by Real Estate Magazine as one of the top 100 real estate companies in the United States. It is an independently owned and operated member of Prudential Real Estate Affiliates and is the 12th largest Prudential real estate affiliate in North America. Prudential Georgia Realty recently became the first large brokerage company in the nation to win the Realtor.com Online Marketing Award of Excellence.
Now in its 47th year serving metro Atlanta, the company has 23 locations in metro Atlanta and 1,200 Realtors ready to assist families with their real estate needs. To learn more about the state of the metro Atlanta real estate market, visit www.AtlantaRealEstateChannel.com for the latest videos and information, including details on the Job Loss Protection Plan for home buyers. Follow the Prudential Georgia Realty blog at http://atlrealestatescoop.com/ for the real scoop on the Atlanta real estate market or follow this Atlanta real estate leader at www.twitter.com/ATLscoop.
###
PHOTO: Realtor Sandi Bonner after winning one of her three industry honors, posing with her Prudential Georgia Realty Managing Broker Steve Allen.
Contact:
TC McClenning, Public Relations Manager
Prudential Georgia Realty
678-352-3317 (direct line)