Dahlonega, GA – July 20, 2010 – (RealEstateRama) — Prudential Georgia Realty is pleasedto announce it is now handling the sales and marketing of Montaluce Estates and Vineyards, a winery communityin Dahlonega. Montaluce is one of just a handful of winery communities in the United States. The exclusive neighborhood islocated in the heart of Georgia wine country—the Napa Valley of the South—and features Tuscany-inspired architecture.
A European lifestyle community, Montaluce is situated on 400 acres, of which more thanhalf will be kept as green space, and includes villas, estate homes andcottages. In addition to the scenic North Georgia views and the on-site vineyards,Montaluce will offer a host of amenities to residents, including a river park, clubhouse,a swim and tennis facility, and miles of nature trails situated over creeks andmeadows. In addition, residents can walk to the award-winning, on-site gourmet restaurant,Le Vigne.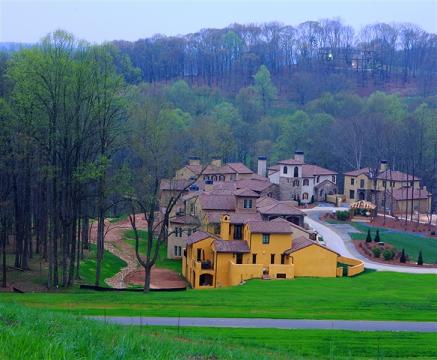 Opentable.comrecently awarded Le Vigne Restaurant high honors in five of its eight awardcategories for all of Georgia, including first in best ambianceand most romantic, the sixth best view in Georgia, the seventh best restaurantstatewide and the eighth best for outdoor dining. Although the restaurant hasonly been open a couple years, Le Vigne has already been written up in numerousprestigious publications, including TheNew York Times, Southern Seasons Magazine, Atlantan Brides, Today's Custom Home Magazine, Georgia Magazine and Atlanta Homes & Lifestyles.
Therestaurant includes food prepared by chefs who had previously worked atfive-star restaurants. In addition, the 23,000 square foot combined space ofthe winery and restaurant coupled with the romantic atmosphere, have quickly  made this a popular spot to host weddings. As of June, the facilities have beenbooked for 45 weddings this year.
"Montaluceis for people who enjoy a more European way of life—good food, good wine andtime with family and friends," stated Bill Frisbey, the sales manager for Montaluce. "We're finding this winery community is ideal for those inpre-retirement, retirement or metro Atlantans who desire to have a second homerelatively close to Atlanta."
Montaluce isbeing developed and built by Beecham Builders, a family-owned company now inits fourth generation of building. Architectural designs are by nationallyrecognized Harrison Design Associates. Every attention to detail has been paidto the home styles and the very layout of the community. Montaluce traded thepredictable rows of homes found in most subdivisions for home sites naturallysituated according to the topography and landscape. The homes themselves exudea rustic look, with imported Italian red-tiled rooftops, stucco walls, outdoorfireplaces, travertine floors, custom cabinetry and wine cellars. All plansfeature larger entertainment areas and outdoor spaces which serve as anextension of the home interiors.
"Right nowMontaluce's M Vineyards Winery is one of five wineries in Dahlonega, with twomore expected to start producing wine in the next couple years," explained RobBeecham, chief operating officer for Beecham Builders and a resident ofMontaluce. "We are proud to be part of this growing trend in North Georgia andinvite people to take our daily winery tour at 2 p.m. or to visit our tastingroom."
Prudential Georgia Realty has marketednumerous unique properties and new home communities in every price point aroundmetro Atlanta. The Atlanta-based company is ranked by Real Estate Magazineas one of the 50 largest real estate companies in the United States.
To learnmore about Montaluce or the Le Vigne Restaurant, visit www.montaluce.com, call 866-991-VINO orcheck out videos about the community on YouTube. A furnishedvilla is also available for touring and a few cottages can be rented for aslittle as a single night to get a small taste of the good life that isMontaluce.
Contact:
TCMcClenning, Public Relations Manager 678-352-3317 (direct line)
PrudentialGeorgia Realty