Fayetteville, GA – July 2, 2009 – (RealEstateRama) — Fayette County resident Kavita (Kay) McInroe, an award-winning Realtor with Prudential Georgia Realty in Fayetteville, was recently honored as the 2009 Realtor of the Year for the Fayette County Board of Realtors.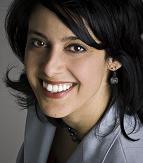 Kay has long been an involved member of the Fayette Board and other real estate organizations. She is a lifetime member of the Fayette Board's Circle of Achievement and has served as a local director and with the Cultural Diversity Committee. In 2008, she served as president of the Fayette chapter of the Women's Council of Realtors. Kay also belongs to the Asian Real Estate Association of America, the Georgia Association of Realtors and the National Association of Realtors.
She sells real estate in partnership with Ernie Curtis. Known as the Curtis McInroe Team, Kay specializes in residential real estate and Ernie focuses on commercial real estate and investment properties. The Curtis McInroe team was the top team in 2008 for the Prudential Fayetteville office. A portion of her commissions goes to St. Jude's Children's Hospital, the Sunshine Kids Foundation, an organization that helps kids with cancer and Children's International.
A licensed Realtor for six years, Kay, in order to better serve her clients, has earned the Accredited Buyer Representative (ABR), Certified Skilled Negotiator and the Seller Representative Specialist (SRS) designations, along with being a Prudential Fine Homes Specialist and a Corporate Relocation Specialist.
Passionate about making a difference in the community, Kay volunteers with McIntosh High School PTSO and has helped with the Science Olympiad program, Beta Club, Ambassadors program, Teacher Appreciation lunches and other school events. She is also a member of the Peachtree City Optimist Club, volunteering for such events as the food drive and the annual Easter egg hunt. In addition, Kay has worked closely with Promise Place, Fayette Samaritans and Honor Flight and is currently the president-elect for the Kiwanis of McIntosh Trail.
For more information about the local real estate market, call Kay McInroe at 678-570-0717  or visit www.KayMcInroe.com to conduct a complete search of some 80,000 available properties in metro Atlanta.
Prudential Georgia Realty (www.PrudentialGA.com) is an independently owned and operated member of Prudential Real Estate Affiliates, a full-service residential and commercial real estate network with offices throughout the U.S. and Canada. Ranked by Real Estate Magazine as one of the top 100 real estate companies in the U.S., Prudential Georgia Realty placed 43rd for most 2008 sales in the real estate trade magazine's 2009 Power Broker Report. It is the 12th largest Prudential real estate affiliate in North America.
Prudential Georgia Realty recently became the first large brokerage company in the nation to win the Realtor.com Online Marketing Award of Excellence. For the last five consecutive years, the firm has been honored with a Consumers' Choice Award as Best in Class for Executive Home Sales in metro Atlanta. Prudential Georgia Realty annually has real estate sales well in excess of $1.5 billion, has 23 metro Atlanta locations and 1,200 Realtors, and just completed its 45th year serving metro Atlanta. To learn more about the state of the metro Atlanta real estate market, visit www.atlantarealestate2009.com to view a quarterly-updated video by Prudential Georgia Realty President and CEO Dan Forsman, filled with the latest statistics, information and the local housing market outlook.
Contact:
TC McClenning, Public Relations Manager
Phone: 678-352-3317 (direct line)